The Bertie Bag.
Classic weekend holdall.
Based on a unique WW2 design.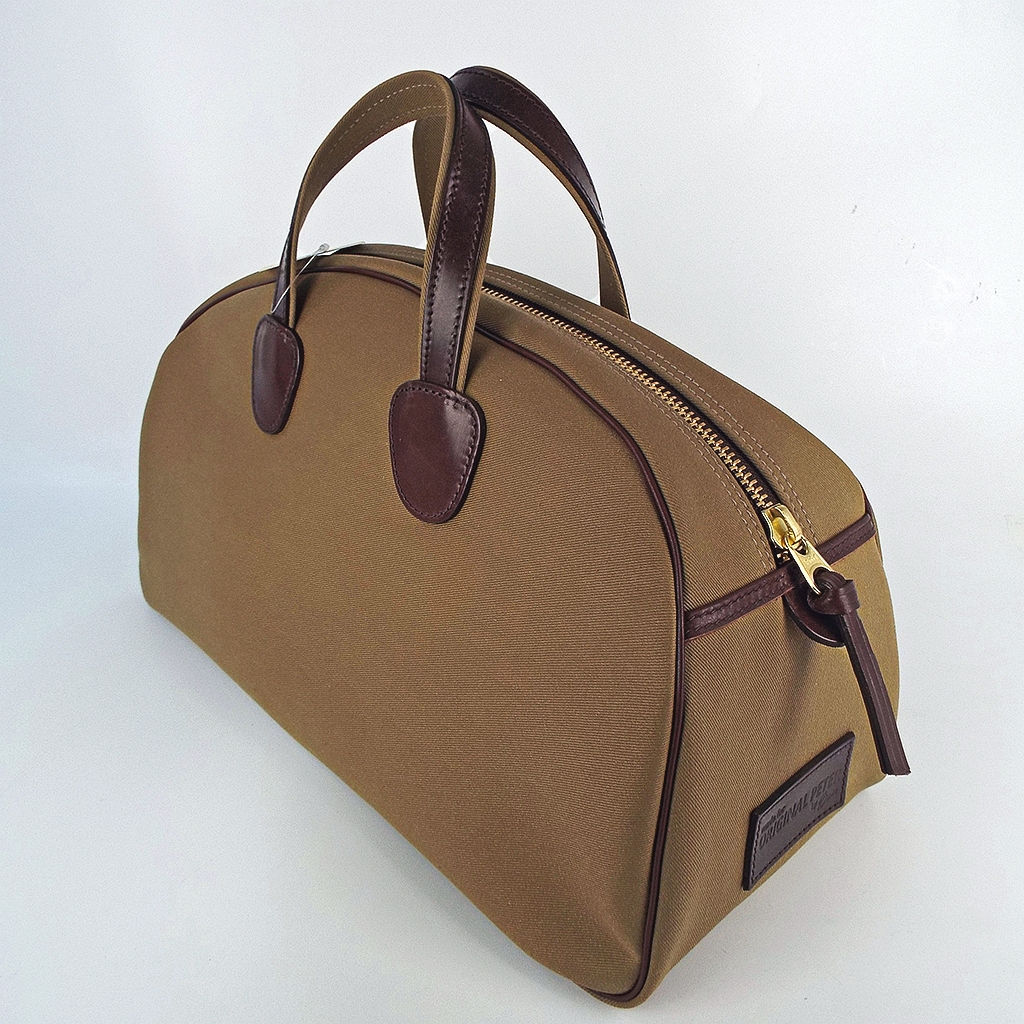 Description
Our Bertie bag is an exact replica of a very rare, one-off bespoke light travel canvas and leather bag made for a Major General in the Second World War. We'd never seen anything quite like it when we found it (at a military collectors' fayre in Europe) in terms of shape, style, size and character. The original bag had the Major General's name stencilled on it so research into its 70-year history was surprisingly straightforward - it was certianly a bag that travelled the world with a decorated hero. The new bag we have created is exact in terms of dimensions, style and materials, although we have improved the zip. It's the same in size and has the same charismatic presence and feel as the original, and offers a unique, stylish and very eye-catching bag for weekend travel, day to day usage and special occasions. We'd also like to point out the unusual leather and canvas straps and also the brilliant way the straps are fastened to the bag. On our trials we managed to fit an extraordinary amount inside the bag, for example: a pair of shoes; a Harrington jacket; a Shetland jumper; 3 shirts; underwear; a book; a camera; a magazine and a washbag. Its compact dimensions make it perfect for use as hand luggage on aircraft and gives it unisex appeal. During our trials several people commented that the Bertie bag reminded them of their old Northern Soul all-nighter bags, minus the 'Night Owl' and 'Keep The Faith' patches. The bag is crafted from high quality bridle leather, hardwearing Italian double bonded waterproof canvas and and industrial zip with leather pull. Available in classic khaki with fine leather trim.
Specification
Made in England from English bridle leather, water-resistant Italian double-layered canvas, British solid brass fittings including 4 brass feet, industrial strength YKK brass zip and leather pull.
Dimensions
Width: 7 1/2 in (19 cm) x Height: 9 1/2 in (24 cm) x Length: 18 in (46 cm)
Testimonial
"Anyone else having problems with their partners using the bag too?!"
Record Collector – Ireland
Purchase
| Description | Price | |
| --- | --- | --- |